Ingrid Olava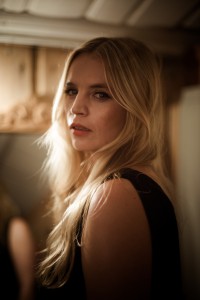 In 2010 Ingrid Olava established herself as one of our leading artists by winning the norwegian grammy, Spellemannsprisen, with the album "The Guest". Already known for her strong presence on stage, Ingrid Olava now achieved recognition as a songwriter and album artist of the highets rank. In autumn 2013  Ingrid Olava released her third album "Summer House". A more rich, varied and dynamic album, which probably got those who had preconceived opinions about Olava songs to open their ears. The album conveys strong personal stories and tales. Ingrid Olava is now working on new music, and in Cellolyd she will preform new songs as well as well known hits in a completely new and unique setting, with cello band!
Tone Kummervold

"A warm and unique sound" - this is how Tone Kummervolds voice is described by her former teacher and famous opera singer, Elizabeth Norberg-Schulz. Kummervold made her debut at the Norwegian National Opera in 2009 and is from the season 2012/2013 a permanent member of the soloist ensemble. She has made several roles in the classical opera repertoire, such as Lola in Cavalleria rusticana, Suzuki in Madama Butterfly, Olga in Eugene Onegin, Mary in The Flying Dutchman and Third Lady in The Magic Flute - but also had success in modern works such as Amando in Le grand macabre, Alun O in All Knut Vaage's newly written opera Khairos, and Pilegrimen Kaija Saariaho's L'amour de loin. The season 14/15 she sang the title role in Calixto Bieito version of Carmen, Niklausse in The Tales of Hoffmann, Flora in La Traviata and Sonetka in Lady Macbeth of Mtsensk. Earlier this fall she impressed critics with her interpretation of Varvara in Katya Kabanova. In addition to this, she has made several other opera roles both at home and abroad, including Opera Barga in Italy, Den Nye Opera in Bergen, Music Theatre in Trondheim and Steinvikholmen Musical. Kummervold has given concert performances with the Bergen Philharmonic Orchestra, Radio Orchestra and Filarmonica Romana in Italy.
Øyvind Gimse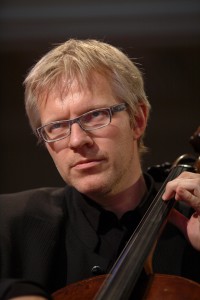 Øyvind Gimse is Artistic Leader of the Trondheim Soloists and a distinguished cellist and orchestral leader. After studies with Walter Nothas, Frans Helmerson and William Pleeth, he held the position of solo cellist in the Trondheim Symphony Orchestra for seven years. He has toured as a soloist with the Trondheim Soloists in Norway, Britain, Italy and Spain. His performances with Anne-Sophie Mutter and the Trondheim Soloists throughout Europe and at the Carnegie Hall in 1999, as well as the recordings with her and the ensemble for DG, have received the highest critical acclaim. In addition his own work as Artistic Leader of the Trondheim Soloists has resulted in the group receiving no less than five GRAMMY® nominations for their last two recordings. In 2004 Gimse joined Sofia Gubaidulina as soloist in her work On the Edge of the Abyss at the Trondheim Chamber Music Festival and during the world première concert performances of Fachwerk with Geir Draugsvoll and the Amsterdam Sinfonietta, he was invited to performe the solo cello part. Since 1997 Gimse has held the position of Professor of Strings at the Institute for Music (NTNU) in Trondheim. He has also taught elsewhere in Scandinavia, Poland, Vietnam and South Africa. In recent years he has, under the guidance of Jorma Panula, developed his conducting skills as a natural extension of his leadership rôle in the Trondheim Soloists.
Audun Sandvik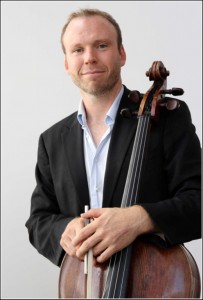 Audun Sandvik is the principal cellist with the Norwegian Radio Orchestra and the Norwegian Chamber Orchestra.  His career as soloist and chamber music performer includes among others soloist-appearances with The Norwegian Radio Orchestra, The Norwegian Chamber Orchestra, The Bergen Philharmonic Orchestra, Stuttgarter Chamber Orchestra and the  professional Naval Orchestra, Sweden. With his duopartner, pianist Sveinung Bjelland he has toured all over Norway with perfomances at the major Norwegian Music Festivals.  They are also regular guest artist at the Maputo International Music Festival, Mosambique.  For Concerts of Norway (Rikskonsertene) he has been touring in India and China. Then for many years being a member of Risør Festival strings , he has collaborated with global stars like Janine Jansen, Julian Rachlin, Leif Ove Andsnes, Torleif Thedeen og Heinrich Schiff.  Sandvik is  the motive force, orchestra leader and artistic advisor for the Gloppen Music Festival that takes place each year in Sandane, Norway.  He is a wellknown face in classical music programs on Norwegian TV both as solist and chamber-musician.  Sandvik is in close contact with the new generation of Norwegian composers, and he is currently in the process of commissioning, performing and recording  the new exciting cello repertoire.
Sandvik is a devoted pedagogue, and teaches at the Norwegian State Academy of music, where besides teaching one of his most important duties is to be Study Contact for the string students, and member of juries.
He has a Performer Diploma from the Indiana University, USA, where he studied with the legendary cellist and teacher Professor Janos Starker. In spring 2000 Sandvik won the prestigious soloist competition at the same university. He represented the Norwegian Academy of Music at the Kyoto International Music festival, Japan. In  2007 he completed his Artist Diploma at the Norwegian Academy of Music, where he studied with Professor Truls Mørk, Professor Aage Kvalbein and Professor Lars Anders Tomter.  He has received many awards and lately was given the prestigious price "De Unges Lindemans Legat"
Sandvik plays on a cello made in Rome 1695 by Giorgio Taninger.
Liv Opdal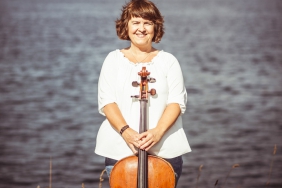 Liv Opdal is the principal cellist of Stavanger Symphony Orchestra and teaches at the University of Stavanger. Her interests as a musician ranges from baroque to contemporary music. She is an active chamber musician and has several times been a festival musician at the Stavanger International Chamber Music Festival. Liv won a Norwegian Grammy in the category for contemporary music together with Aage Kvalbein and the Oslo Philharmonic Orchestra for their recording of Illuminations by Lasse Thoresen, a concert for two celli and orchestra, which they also performed at the great contemporary music festival Présences in Paris. Liv Opdal has had many engagements as a soloist in Norway and abroad. She also plays baroque cello and is a member of Stavanger Barokk. Besides teaching cello and chamber music at UiS she is regularly giving master classes at other institutions and courses.
Sveinung Bjelland

Sveinung Bjelland is one of Norway's leading classical pianists. He studied with Hans Leygraf at the Salzburg Mozarteum and at the University of the Arts in Berlin. After his studies, which he completed with top marks and special distinction, he received a number of awards and was named "Young Musician of the Year" by the Norwegian Concert Institute in 1999. Since then Sveinung Bjelland has made a name for himself as an extraordinarily multifaceted pianist. His recording of Scarlatti and Mendelssohn sonatas received international acclaim and was nominated for the Norwegian Grammy Award (Spellemannsprisen) in 2006.
 He is much in demand, both as a concert soloist with the leading Norwegian orchestras and as a chamber musician throughout the world. In October 2008 he made his debut at London's Wigmore Hall. He has collaborated closely with tenor Daniel Behle for many years. Their recordings have received enthusiastic reviews from international music critics. Sveinung Bjelland served as artistic director of the Gloger Festival in Norway from 2002 to 2008.
He is professor at the Norwegian Academy of Music in Oslo and at the University of Agder in Kristiansand.
Lisa Isabel Holstad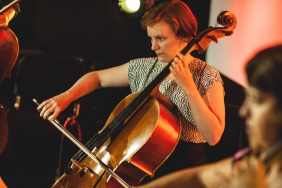 Lisa Isabel Holstad origins from Sørvågen in Lofoten and is the founder and director of Cellolyd i Lofoten. After studies at the Norwegian Academy of Music and the University of Stavanger she moved back to the north of Norway in 2012, and is currently in a position as a district musician in Sortland in Vesterålen. Lisa is an active freelance cellist, substituting in a.o. Bodø Sinfonietta and the Arctic Philharmonic.
Synnøve Volden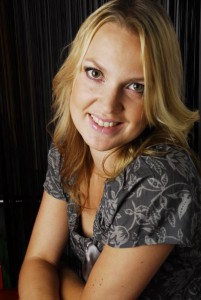 Synnøve Volden studied cello at Musikkonservatoriet i Trondheim with Øyvind Gimse and Ernst Simon Glaser as teachers. She also studied with Bjørg Værnes at the Grieg academy in Bergen.
Together with the string quartet Nidaros strykekvartett she completed a master degree in chamber music at the Royal College of Music in Stockholm. The quartet she has been touring both in Norway and abroad, and played in festivals such as Vinterfestspillene I Bergstaden, Bergen International festival, Trondheim Chamber music festival and Olavsfestdagene. As a freelance cellist she has been working in orchestras like Swedish Radio Symphony orchestra, Royal Philharmonic Orchestra, Royal Swedish opera, Västerås Sinfonietta, Dalasinfoniettan, Trondheim Symphony orchestra, TrondheimSolistene and Arctic Philharmonic.
Synnøve lives in Melbu in Vesterålen where she runs the concert series "Hadsel live" in addition to working as a freelance cellist and teacher.
Kaja Fjellberg Pettersen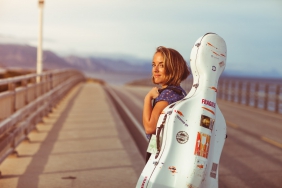 Kaja Fjellberg Pettersen completed in december 2014 her masters degree at the University of Trondheim. She previously had a bachelor degree from The Norwegian Academy of Music from 2008. Kaja is a versatile cellist working in a lot of different genres. In addition to her classical work, she has for years collaborated with established artists in the Norwegian pop scene as a performer and arranger for strings in different settings. She has worked with artists such as Marit Larsen, Siri Nilsen and Karpe Diem both as a band member and with her own string quartet, Oslo Strings. Kaja wishes to remain a curious musician, constantly seeking new ways of improving her technique an musical sense.
Kristine Solberg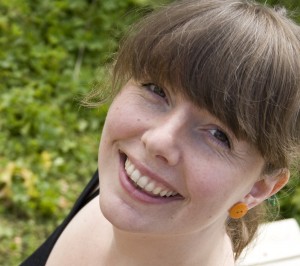 Kristine Solberg completed in spring 2009 her masters degree at The Norwegian Academy of music with professor Truls Mørk. She had previously studied with professor Aage Kvalbein, and also with professor Bernhard Gmelin at the Hochshule für Musik und Theater Hamburg. After her studies she has worked as a musician in Voss and as a cello teacher. In addition to being a passionate chamber musician she works as a substitute in several of the Norwegian orchestras.
Rune Larsen
Rune Larsen studied classical accordion at the Royal Danish Academy of Music in Copenhagen. As a performer he has made tours with Musikk i Nordland and Kultur i Troms, played at festivals such as the Artic arts festival and the Northern Lights Festival. He has also worked as a musician at Hålogaland Theatre, been a soloist with Aachen Chamber Orchestra and recorded several CDs. He also takes part in more untraditional concerts such as the project "Death metal accordion" which was selected to perform at ByLarm in 2010. In this project he played accordion 24 hours non-stop in the City Mission in Tromso! Today he teaches accordion at Vestvågøy music school, and is the conductor of Lofoten Accordion Orchestra and Stamsund choir.
Kristine Tjøgersen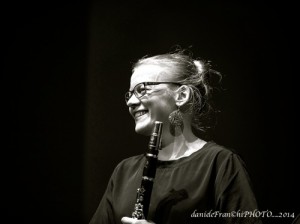 Kristine Tjøgersen (b. 1982) has a Masters degree in Clarinet from the Norwegian Academy of Music where she studied with professor Hans Christian Bræin. In her studies she specialized in contemporary music and new playing techniques for the clarinet. One of her fields of interest is genrecrossing artistic expressions. She is a member of asamisimasa, ensemble neoN, Polygon, Tøyen Fil og Klafferi and WeDoMagic, and works as a freelance musician. Kristine Tjøgersen has collaborated with many Norwegian and international composers like Helmut Lachenmann, Alvin Lucier, Carola Bauckholdt and Trond Reinholdtsen. She has participated in premiering works by among others Therese Birkelund, Jon Øivind Ness, Eivind Buene, Simon Steen-Andersen, Lars Skoglund, Ignas Krunglevicius, Phil Niblock, Martin Schüttler, Øyvind Torvund, Hafdis Bjarnadottir, Gudmundur Steinn-Gunnarsson, Marina Rosenfeldt and Sven Lyder Kahrs. She has performed at Ultraschall, Berghain (Berlin), Ultima Festival (Norway), Huddersfield Festival (England), Ilios Festival (Norway), Palais de Tokyo (Paris), Darmstadt (DE), and Warszawa Autumn (Poland) among others. Kristine Tjøgersen also works as a composer and visual artist.
Egle Konciene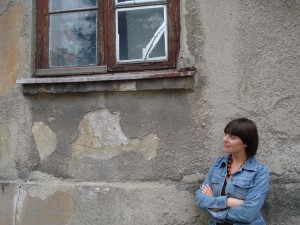 Egle Konciene is educated as a mime- and drama director from the University of Klaipeda in Lithuania. She moved to Norway in 2010 and is currently employed as a drama teacher at Sortland Kulturskole. She has a lot of experience working with children and has done several projects for Den Kulturelle Skolesekken.
Mean Steel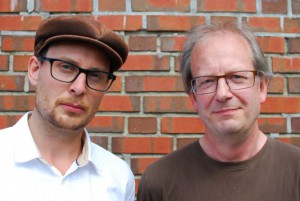 Mean steel is a cool band preforming cool music of cool composers. The duo consists of Ola Rokkones from Tromsø on saxophone and Hans-Urban Anderson from Narvik on cello and saxophone. Together they explore the different sounds that emerge in the in the interaction between the cello and the saxophone, and they have commissioned several works from north norwegian contemporary composers for this duo project. The concert also features pieces for two baritone saxophones; according to them self the absolutely coolest combination! Mean Steel is produced and supported by "Musikk i Nordland".
Composer: Lars Skoglund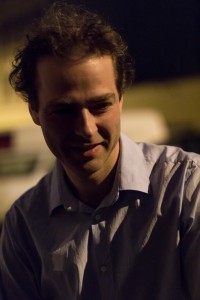 Lars Skoglund (b. 1974) studied composition at the Rotterdam Conservatorium in the Netherlands, and musicology and philosophy at the University of Trondheim. In 2015-17 he makes a master's degree in composition at the Norwegian Academy of Music. In 2004 Skoglund received the NOG Jonge Componisten Prijs in Amsterdam for the orchestral work Sentences, and worked with Holland Symfonia, Doelen Ensemble, Radio Kamer Filharmonie and Peter Eötvös in the Netherlands, Affinis, Ensemble Ernst, Norwegian Arctic Philharmonic Orchestra and Bodø Sinfonietta among others. His music has been performed in Austria, Bulgaria, Russia, Iceland, Sweden, USA and Germany. From 2006-2008 Skoglund was a composer fellow at Tromsø Music Conservatory, where he later taught composition. He has also worked on music for theater and dance performances, and is a member of the cult band Løkbrød.
Eilertsen & Granados Teaterkompani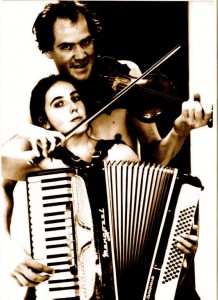 Eilertsen & Granados was founded in 2006 by Andreas Eilertsen (Norway) and Cristina Granados (Spain). Andreas graduated from drama school in St. Petersburg and is one of the founders of the theater community still existing in Stamsund, Lofoten, Norway. Cristina began her studies on stage in Stamsund under another theater company and has studied art and literature in Spain together with photography. She has worked professionally in theater since 2002.
The company bases its experience in the expressive physical theater and has extensively studied the connection between live music and theater. E & G owe much of their inspiration from writers like Julio Cortázar, contemporary jazz and art installations.​